ADAS Pwllpeiran research farm near Aberystwyth for sale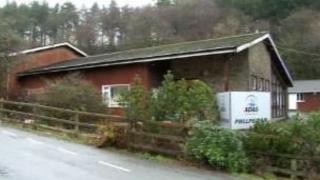 A farm of more than 3,000 acres (1,300 ha) is being sold off in Ceredigion after an agri-research company said it could not afford to renew the lease.
ADAS in Cwmystwyth has leased the Welsh government-owned land since 1998, but Pwllpeiran farm has been a research centre since the 1930s.
The sale has been criticised by farming leaders and Ceredigion AM Elin Jones.
The Welsh government said the farm would be sold in lots and would give local farmers the chance to expand.
Six of the farm's nine employees are being redeployed locally by ADAS, two have found work with the Welsh government, while one worker is believed to be taking redundancy.
For more than 80 years researchers at Pwllpeiran have worked to improve the viability of farming the uplands of Wales.
Their studies have helped hill farmers care for their livestock and manage their land more efficiently.
The lease by ADAS ends in March.
Group managing director Colin Speller said: "The current costs of occupancy at Pwllpeiran, which are largely fixed, exceed the research and farming income on the site and we do not see any immediate prospect of this situation changing.
"Our withdrawal from Pwllpeiran is not a reflection of the commitment of our staff there, or of the quality of their work.
"The decision reflects the economic climate - funding for upland agri-environmental research is in decline."
Union concerns
A Welsh government spokeswoman said a decision had been made to sell the farm after ADAS' withdrawal from the lease.
She added: "The sale will be completed in lots which will maximise the opportunity for local farmers to acquire the land and will be an excellent opportunity for local farm businesses to expand their capacity.
"We are working closely with the farm's staff to ensure they receive support and as much information and advice as possible to help them to determine their futures."
Farming leaders are opposed to the sale and claim the work carried out there is vital.
Farmers' Union of Wales president Emyr Jones has written to the deputy minister for agriculture, Alun Davies, to complain.
"For the best part of a century, Pwllpeiran has played an important role in the development of agriculture in Wales and in terms of global agriculture," said Mr Jones.
The National Farmers' Union chairman in Ceredigion, John Davies, appealed to the Welsh government to continue the "vital research into upland farming" through a collaboration with a research body in the public or private sector.
The sale of land at Pwllpeiran is expected to begin in the autumn.