Bob Jones: Hundreds at service for Mid Wales Airport founder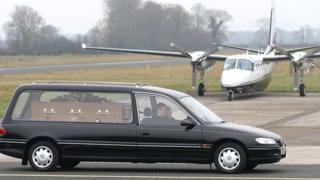 The funeral has been held of a businessman and pilot killed in an air crash in Powys.
Bob Jones, 60, founder and manager of Mid Wales Airport in Welshpool, died on nearby Long Mountain along with Steven Carr, 55, from Ruthin, Denbighshire.
A private family funeral was held on Saturday followed by a thanksgiving service attended by more than 600 mourners.
Aircraft also carried out a fly-past before the family funeral.
Mr Jones's widow, Linda, his brother and one of his two sons, who is an RAF officer, read poems during the service at St Mary's Church in Welshpool.
Mrs Jones recited Impressions of a Pilot by Gary Claude Stoker, which included the lines: Should my end come while I am in flight, Whether brightest day or darkest night; Spare me no pity and shrug off the pain, Secure in the knowledge that I'd do it again.
Cow Pats to Cockpits
During the eulogy, the congregation heard how Mr Jones had been obsessed with aircraft and flying since he was a child.
Mourners were also told how, in later life, he created a grass strip on his dairy farm, which he eventually transformed into an airport serving local businesses.
There were also stories of the actor Harrison Ford, members of the royal family and local dignitaries all visiting the airport.
Mr Jones was also a keen sportsman, and the congregation heard how he played badminton and tennis for clubs in nearby Forden, and enjoyed skiing.
They were also told that he fought a battle against prostate cancer in 2010, that he was proud of his family, was generous, and had a good sense of humour.
Extracts from his memoirs, Cow Pats to Cockpits, were also read out.
Among those at the service were former Montgomeryshire MP Lembit Opik, town and county councillors and members of the RAF cadets.
The local crew of the Wales Air Ambulance, who are based at the airport, formed a guard of honour at the church door as the service came to an end.
People left the church to the theme from the Dambusters, the 1955 film telling the story of the WWII bouncing bomb RAF raid in Germany's industrial heartland. Nearby Elan Valley reservoirs were used to test the bombs.
An air accident investigation is continuing into how the two men died when their twin-engine Piper plane came down on 18 January.
Mr Jones built Mid Wales Airport on fields near the farm he owned, developing it from a grass strip in 1990 to act as a base for businesses operating aircraft in the area.
The funeral of Mr Carr, a former RAF pilot and music producer, took place on Friday in Wrexham.
Wreckage from the aircraft has been taken to the Air Accident Investigation Branch headquarters in Farnborough, Hampshire.