Cardiff couple to sell hostel after mortgaging homes to buy it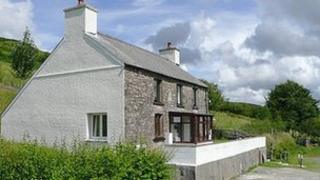 Two ramblers who mortgaged their Cardiff homes to save a remote walkers' hostel from closure are to sell it to the trust they bought it for.
The couple paid more than £125,000 for the former Youth Hostel Association (YHA) property Ty'n Cornel, near Tregaron, Ceredigion, in 2006.
The YHA put it up for sale because it failed to attract enough visitors.
But Elenydd Wilderness Hostels Trust did not have enough money at the time to purchase the building.
In 2006, the trust said the couple decided to buy the hostel after walking in the area with friends.
They arranged to lease it to the trust for five years.
At the time, trust spokesman Bill Hine said the pair wanted to "remain reasonably anonymous, but to satisfy curiosity - they are professional people in their mid-thirties living in Cardiff and have taken out mortgages on their own homes to raise the money".
Ty'n Cornel, which was originally a farmhouse, is in the Doethie valley in the Cambrian Mountains, near the village of Llanddewi-Brefi.
The 16-bed hostel is popular with walkers and cyclists and last year attracted 800 visitors.
Elenydd Wilderness Hostels Trust started a campaign to save Ty'n Cornel, and the nearby hostels of Dolgoch and Blaencaron, in January 2006.
It later abandoned an attempt to buy Blaencaron, but bought Dolgoch a few years ago.
The trust's Geoffrey Williams said: "Public-spirited people bought Ty'n Cornel and now we are raising money to buy it off them. We have leased the hostel since 2007.
"The purchase will secure the long-term future of this hostel, which provides much needed simple accommodation for walkers, cyclists, and other travellers in a beautiful and remote area of mid Wales."