Aberystwyth Guild of Students' Ben Meakin quits NUS post over photo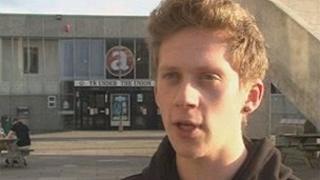 A student leader has resigned from a national committee after being caught on camera with a woman simulating a sex act on him.
The president of Aberystwyth Guild of Students, Ben Meakin, stood down from the National Union of Students' (NUS) national executive on Tuesday.
Mr Meakin issued an apology after he was photographed at a student event in a pub in the Ceredigion town.
NUS Wales president Luke Young said Mr Meakin had shown a lack of judgment.
NUS Wales said the student event at the Aberystwyth pub was not held or endorsed by Aberystwyth Guild of Students. It added that the photograph of Mr Meakin had been circulated on the internet.
Mr Meakin is still the president of Aberystwyth Guild of Students, but guild chief executive Geraint Edwards said it was investigating his participation in the event, which was staged on Sunday.
Mr Young said: "His actions have shown a serious lack of sound judgement.
"This is unacceptable for a member of the NUS Wales executive and is why I asked him to resign."
Issuing an apology, Mr Meakin said: "I sincerely regret my participation in the social event held outside the guild after our superteams day.
"However, I compromised my role as guild president."
He added: "My actions go against the fantastic work of the women's liberation movement, which I fully support. Personally, I am a strong advocate for the women's movement."
Mr Meakin said he had learned from the experience and planned to carry on with his work at Aberystwyth University.
NUS Wales women's officer Stephanie Lloyd said sexism on campus should never be tolerated.
"We must do everything we can to fight against it. Whilst Ben has joined our movement in the past, his recent actions are unacceptable," she added.