Shoppers 'boycotting' Newtown Tesco over traffic problems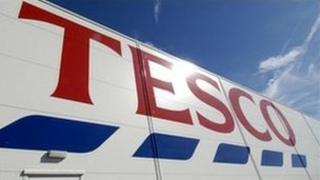 Heavy congestion through a Powys town is being blamed on a Tesco supermarket, with some residents avoiding the store, a report for the Welsh government says.
Newtown has long suffered traffic problems but there are claims delays have increased since traffic lights replaced a roundabout near the store.
The report was commissioned by the Welsh government which is responsible for the A483, where the problems exist.
But Tesco said its Newtown supermarket was proving "extremely popular".
The report by a firm of Cardiff consultants investigated Newtown's traffic issues.
It said it understood some locals were "boycotting" the store "in response to traffic issues".
There are complaints the road junction near Tesco causes long delays at certain times of the day.
A bypass is planned for the town, but it could be 2014 before it is built.
The report for the Welsh government said: "As part of mitigation measures for the new Tesco store, A483 Pool Road/Kerry Road roundabout was converted to a signal controlled junction in late 2009, and a new signal controlled junction provided for the Tesco access."
The report added that traffic counts in the area last year were "noticeably lower" than forecasts in 2009 from a Tesco transport assessment.
It said this suggested that Tesco was not attracting as many customers as expected.
"It is understood that many local residents are boycotting the Tesco store in response to the traffic issues and perceived negative impact on other local shops," said the report.
The supermarket giant built its store on the site of Newtown's old livestock market and opened in February 2010.
A Tesco spokeswoman said: "Our Newtown store is proving extremely popular and serves thousands of loyal customers every day.
"On the back of its success, we have also opened two new stores in Powys since 2010."
She said all three stores had been welcomed by shoppers who wanted a wide range of quality products at prices to suit different needs.
Public meeting
The work replacing the roundabout near Tesco also included linking five road junctions, controlled by traffic lights on the A483 via a control system called SCOOT, but it did not work properly initially.
The report said: "The initial SCOOT calibration was not undertaken effectively, leading to significant congestion, increased delays, and public complaints."
Alterations were made to the Kerry Road junction and the "traffic signal configuration" last year, which had lead to "improved operation and journey times", said the report.
A Welsh government spokesperson said: "It is intended that the Welsh government, in conjunction with the local authority, will hold a public meeting to discuss and explain the findings of the consultants' report in the near future."