Brecon Cathedral hosts Anthony Bunker's crucifix, commissioned for his wife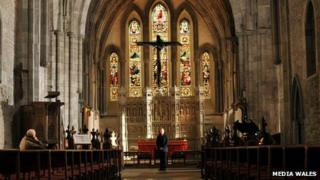 A crucifix commissioned by a lawyer to celebrate his wife becoming a priest has gone on show at Brecon Cathedral.
Anthony Bunker wanted to mark his wife Elizabeth's ordination, and a sculptor suggested the cross.
It will be in the Powys town until July, and effectively replaces a crucifix destroyed on the orders of Henry VIII nearly 500 years ago.
The old cross was said to have healing powers, and pilgrims would visit the Powys town to touch it.
That original crucifix, known as the Brecon or rood cross, was destroyed in 1538 after Henry VIII's split with the Catholic Church.
The Reverend Geoffrey Marshall, the dean of Brecon Cathedral, said for hundreds of years a gold cross had hung on a rood screen, which divided monks and the congregation at the cathedral when it was known as the Priory Church.
The 6ft 5in (1.96m) bronze replacement, cast from driftwood, is the work of the artist Helen Sinclair, from Rhossili, Gower.
'Too beautiful'
It was lifted into place at the cathedral on Monday, near where the rood screen used to be.
Mr Bunker, who was born in Neath, said: "I have acquired a number of Helen Sinclair's works and when thinking what I could do to acknowledge my wife's ordination I asked Helen if she would do something."
He said Ms Sinclair came up with the idea and her resulting sculpture was "far too beautiful and stunning for someone to keep to themselves" so it was decided it should be displayed in Wales.
A letter was sent to cathedrals asking if they were interested in displaying it.
"The first cathedral to respond was Brecon, but it was a coincidence that they once had a cross hanging from a rood screen," said Mr Bunker, who lives in Hertfordshire and works in London.
"We knew nothing about that."
Mr Bunker said he and his wife would eventually decide where the cross should be permanently placed.
Helen Sinclair, who studied at Wimbledon School of Art, became a full-time sculptor in 1988 after teaching for 12 years.