Ted Griffiths, ex-Brecon and Radnor Express editor, dies aged 87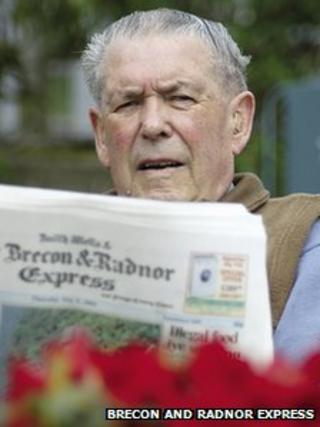 Tributes have been paid to a former newspaper editor who ran the title "with quiet calm and good humour".
Ted Griffiths, who has died aged 87, joined the Brecon and Radnor Express as a 15-year-old reporter in 1940.
His challenges included replacing adverts on the front page with news, and another was being asked for a fight by a wrestler unhappy with a report.
In his 50-year career, he spent 35 of them as editor. He died on 27 March, and his funeral was held on Tuesday.
Among the stories he covered during his tenure was the rise of two internationally-renowned events, Brecon Jazz and the Hay Festival.
Both events have grown in significance, with Hay welcoming the likes of former US president Bill Clinton and ex-Beatle Sir Paul McCartney, while Brecon Jazz has attracted singers and musicians such as George Melly, Humphrey Lyttleton, Sonny Rollins, Van Morrison and Amy Winehouse.
Mr Griffiths, who was born in Tregoyd, near Talgarth, also covered several close general election results in the Brecon and Radnorshire constituency, including the dramatic 1985 by-election narrowly won by the Liberal Party's Richard Livsey.
One of his former reporters, Arwyn Evans, said: "I had the privilege of working with him for 29 wonderfully happy years when he directed the paper with a quiet calm and good humour.
"He was a skilful reporter and astute editor. The newsroom was never happier than when he was around."
Malcolm Morris, joint general manager of The Brecon and Radnor Express, who has worked at the paper for 48 years, said: "I spent 29 years in the production department of the paper during Ted's time as editor.
Hot metal
"No story was too small as Ted knew that the more names and faces in the paper the more people would want to read it, and that is still the case today."
News replaced page one adverts in October 1989, as the paper celebrated its centenary, and in August 1992 the last hot metal newspaper was printed and it went into full computerised production.
Its print works in Brecon were closed and the paper shed more than half its staff.
During the next six months circulation rose rapidly and the paper employed more journalists and advertising staff and opened new district offices.
Mr Griffiths's son, Philip, said his father loved the area and the people.
Philip Griffiths said: "When I was a little boy he had to interview a wrestler, who didn't like the report, and then offered to fight him in the ring."
In 1993, aged 68, Mr Griffiths retired after more than 50 years at the Brecon and Radnor Express, but he continued to supply community news, filing his last regular column in 2004.