Man v Horse race: 'No horseshoes' plea by rider Sarah Braithwaite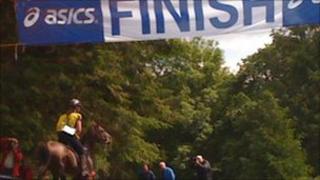 The organisers of the annual Man versus Horse race in Powys are being urged to change the rules so its four-legged entrants can compete without shoes.
Riders whose horses go "barefoot" claim metal shoes can harm the animals' hooves in the long term.
Sarah Braithwaite, who has written a book about barefoot horses and competes in endurance rides, said rules forcing shod horses were outdated.
A spokesman for the Llanwrtyd Wells event said shoeing protected horses.
Organisers Green Events said a committee was meeting on Thursday night to discuss the issue and would release a statement on Friday.
The spokesman added: "It has always been a rule of Man versus Horse that horses are to be shod because of the course, and because it's a race rather than an endurance ride."
The race has been run since 1980 and takes competitors along farm tracks, footpaths, open moor land and tarmac.
More than 300 solo runners, 111 relay teams of three, and 50 of their four-legged rivals took part in the 22-mile (35km) event around the town last year.
Ms Braithwaite claimed at least four competitors who rode barefoot had entered this year's competition, but had been told that their horses must wear metal shoes.
She was approached by fellow rider Lindsey Bell, who has applied to take part in this year's event. A problem with her horse has prevented her from fitting traditional horseshoes.
'No welfare risk'
"Lindsey got in touch to ask me to try and persuade the organisers to change the rules about horseshoes," said Ms Braithwaite, who is from Mold, Flintshire.
"We believe that metal shoes can have a detrimental effect on horses' hooves in the long term.
"The view that horses need metal shoes to compete or be ridden in any discipline is both outdated and narrow."
Ms Braithwaite, who has ridden her horses barefoot for more than 12 years in many different disciplines, added: "I feel I am ideally situated to tell these organisers that there is no welfare risk to these horses.
"This has been proven again and again by the results that UK riders of barefoot horses are achieving in both Endurance GB and Sport Endurance GB-vetted rides."
Ms Braithwaite said horses competing in the race should also be permitted to wear boots, a type of equine training shoe which is popular in the United States.
The only occasions when men have beaten horses were in 2004 and 2007.