Alan Evans jailed for causing death by dangerous driving of son Bailey, 5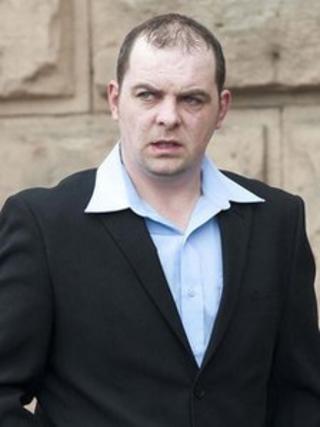 A father who caused the death of his five-year-old son by dangerous driving has been jailed for 21 months.
Alan Lloyd Paul Evans, 34, of Wrexham, was also banned from driving for five years at Mold Crown Court after previously admitting the offence.
His son Bailey Alan Evans was a front seat passenger in a Citroen Saxo in a head-on collision on the A483 near Welshpool, Powys, in May 2011.
Judge Niclas Parry told Evans it was a "thoroughly avoidable tragedy".
The judge also told him he had taken into account his devastating loss, as Bailey was "the apple of his eye".
"I am conscious that no punishment I can impose today can reflect the punishment you have already suffered," he said.
The court heard Evans lost control of the car at high speed after trying to overtake two cars which were already overtaking a slower moving vehicle.
He sat with his head bowed throughout most of Friday's sentencing hearing.
The court was told Evans had been jailed previously for dangerous driving and had three previous convictions for drink driving.
Judge Parry said the defendant's previous convictions "seriously aggravated the offence" and he would be failing in his duty if he did not impose an immediate custodial sentence.
'Abdicated responsibility'
But he said he would extend as much mercy as he could "in the tragic circumstances" and would limit it to 21 months.
He said: "It was obvious to all who witnessed the incident that the inevitable consequences would be serious.
"One witness described you as driving like 'a bat out of Hell'. He created a substantial risk of danger and lost control.
"You had been trusted with with the care of that child. He was entirely dependent upon you to keep him safe.
"You abdicated that responsibility for the sake of saving a few minutes and put at risk other road users."
The court heard police estimated speed as anywhere between 72 mph and 91 mph.
'Deserved custody'
Andrew Jebb, defending, said his client accepted that what started as a genuine and reasonable attempt to overtake became a gross error of judgement.
Instead of pulling back in, he attempted to complete the overtaking manoeuvre by accelerating to excessive speed, he said.
He said Evans knew he deserved custody but did not care what happened to him as no penalty could compare to what he was already putting himself through.
He said: "The consequences will live with him for ever and have devastated many people beyond Mr Evans who stands before you today," he said.
Mr Jebb said his client's previous dangerous driving, when he was jailed for three months, was 12 years ago when he drove in "doughnut circles" in a supermarket car park after drinking.