Simon Jones: Father appeals for information on missing son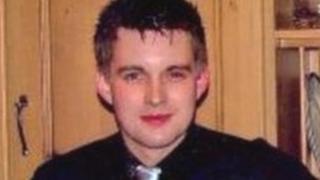 The father of a man missing for almost a week has appealed for information to help find his son.
Simon Jones, 24, was on a night out in Aberystwyth, Ceredigion, when he disappeared on Monday, 9 April.
His father, Gwynfor Jones, from Llandysul, said it was completely out of character.
Friends and family have handed out leaflets to raise awareness of his disappearance.
He was last seen on Monday at 01:10 BST in Lip Licking takeaway on Pier Street.
His father said: "He was in Pier Pressure in Aberystwyth at about midnight.
"If anybody has seen him after that please get in touch with the police as soon as possible because any information will be useful."
Mr Jones is described as slim, 5ft 9in (1.7m), with dark medium length hair.
He was supposed to be staying with friends in Penparcau but failed to arrive.
Anyone with information is asked to call Dyfed-Powys Police or 101.