Machynlleth Comedy Festival: 2,000 expected in fourth year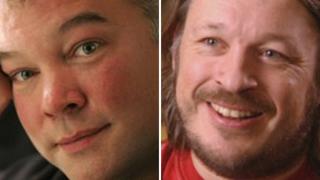 Hay-on-Wye has books, Brecon has jazz and now another Powys town is becoming known for its jokes.
This weekend sees the third Machynlleth Comedy Festival.
The three-day event has grown rapidly over the last two years, attracting fans from across the UK to hear many well-known acts on the comedy circuit.
The line-up includes Stewart Lee and his former comedy partner Richard Herring, Chris Corcoran, Arthur Smith and Henning Wehn.
Described as a "boutique comedy weekend", the Machynlleth festival has attracted some of the most high-profile performers over the last couple of years.
This year it is expecting 2,000 visitors, four times the number who visited in its first year.
It was born out of a desire to give comedy in Wales a wider base outside the cities of Cardiff, Swansea and Newport.
Organiser Henry Widdicombe said: "I always knew it was this sort of hidden gem in Wales with so much history and culture, and just loved it and it seemed the obvious choice in the first year.
"When you look at the venue spaces the town's got, we're so privileged to use the Owain Glyndwr Centre. The fact that they let us go in there and do stand-up comedy, where the Welsh parliament was, is astounding.
"We've always wanted to to keep it at a nice level where people feel they are discovering a secret, if you like, and getting a really special experience when they come here.
"We've not tried to grow it too much, but it's become a sought after festival to play which in such a short time is a great reputation to have."
Jane Page, the assistant manager of the town's Quarry cafe, said the festival was increasing in popularity.
"People just flood into the town for it. It's massive for the whole town," she added.
One performer who should not be short of a gag or two this weekend is local man Mike Parker, who is doing a routine about Machynlleth at Y Plas on Saturday afternoon.
'Hard way'
"I'm really looking forward to it and I'm kind of nervous. This is the first time I've done stand-up in 12 years," he said.
"I'm doing it the hard way. I've decided to write a show about Machynlleth, which I'm performing in Machynlleth.
"This is a town I've lived near for 12 years I'm not from, and I could well be having my house on the market by Monday."
Mr Parker said the festival was positive for the town.
"Mach is a town that suits a festival like this down to the ground," he added.
"We've got good little venues. We've got a top-notch weekend of top international comedy without having to leave home, so what could be better?"