Simon Jones: Aberystwyth rally car procession for missing man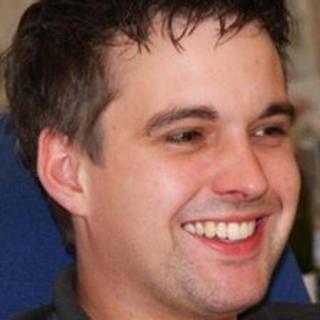 A procession of about 75 rally cars has driven through Aberystwyth in a bid to help the search for a missing man.
They took the route which CCTV shows Simon Jones, 24, walked when he was last seen in the Ceredigion town at 01:34 BST on Monday, 9 April.
The event started from Park Avenue car park on Sunday before the vehicles made their way to the seafront, with drivers handing out leaflets.
Mr Jones, last seen in St James Square, is a fan of rallying.
His driving licence was recently found on a beach in the town.
The procession to the seafront has been held to boost the profile of the search for Mr Jones, who owns a business which specialises in making parts for rally vehicles.
'Very concerned'
His father, Gwynfor Jones, from Llandysul, has described his disappearance as completely out of character.
Simon Jones's cousin, Jason Jones said: "Rallying is a fundamental part of Simon's life and it's his hobby.
"The feeling among family is that we can't accept he's gone down a road and no one has seen him.
"He can't have just disappeared off the face of the earth at a time when the pubs and clubs are closing.
"He had no reason to disappear, he's successful and it's totally out of character.
"We are very concerned about his welfare and urge anyone with information to come forward."
A website has been created to aid the search for Mr Jones, but Dyfed-Powys Police say there have been no fresh leads since his driving licence was found two weeks ago.
Mr Jones was supposed to stay with friends in Penparcau but failed to arrive after his night out.
He is described as slim, 5ft 9in (1.7m), with dark medium length hair and attended the Pier Pressure nightclub and Lip Licking takeaway nearby.
Jason Jones said the turnout of rally cars and spectators showed the strength of feeling towards his cousin.
"It has been tremendous," he said.
"Everyone wanted to show their support."
Dyfed-Powys Police have asked anyone with information to contact them or call 101.