Beavers: Cwm Einion project may introduce male for breeding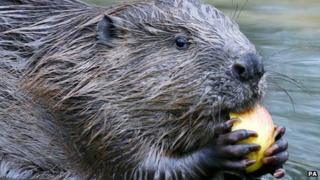 Conservationists in Ceredigion say a project to bring European beavers back to Wales is proving critics wrong.
Two female beavers were placed in a secure enclosure at Cwm Einion near Machynlleth six months ago.
Farming unions say they remain concerned the animals could escape, damaging the local eco-system.
But those behind the private scheme at Blaeneinion say the pair are still there, and they are now considering introducing a male over the summer.
"We were very confident that the fears which people had expressed were groundless, even before the beavers arrived," said Sharon Girardi, who leads the Blaeneinion beaver project.
"The enclosure is surrounded by chicken wire, weld mesh and an electric fence, so it would be virtually impossible for even the most determined beaver to escape.
"But as it's turned out this pair haven't even demonstrated the slightest interest in trying to get out."
When the beaver project was first mooted in March last year, farming unions said there were concerns.
It was said that some beavers were "masters at evading capture," and there were worries that there was opposition to any cull of escaped beavers, regardless of any damage they might do to native plants and animals.
Non-native species
Unions also cited problems associated with non-native species such as the grey squirrel and rabbit to see the "potential for conflict in the future".
Both the FUW and NFU unions say their position on the beaver project has not altered, especially as a breeding male could be introduced at the 2.5 acre enclosure.
It is thought that beavers, while common in medieval Wales, became extinct by the 16th Century.
But Ms Girardi said she believed the beavers remained "keystone species," whose re-introduction would increase biodiversity.