Three days of wind farm delivery trials start in Swansea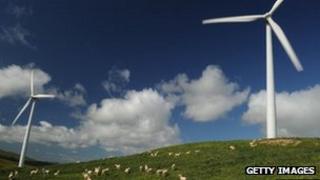 Wind farm developers have started delivery trial runs in south west and mid Wales, using an empty trailer mimicking an abnormal load.
The trailer, which is up to 50m long, is running between Swansea and Ponterwyd, Ceredigion, on Tuesday.
It is only expected to take a day, but depending on its progress it could run into Wednesday.
A trial is also planned between Bronllys, near Brecon, and Crossgates, near Llandrindod Wells, on Thursday.
Powys council said this would include a return journey, and should be completed by lunchtime.
A spokesman said: "This test will be under police escort and we will be monitoring its progress throughout the morning.
"Everything is being done to reduce the impact for residents and drivers but there many be some short delays."
Tuesday's trial will also include a return journey between Ponterwyd and Caersws, Powys.
Business people in Powys have already raised concerns about traffic problems resulting from wind farm development.
About 50 people attended a meeting in Newtown in January about the impact of building up to 15 wind farms in mid Wales.
But wind energy developers say any increase in lorries or large abnormal loads would be short lived, only happening during the construction phase.