Words inspired by the web make Welsh dictionary debut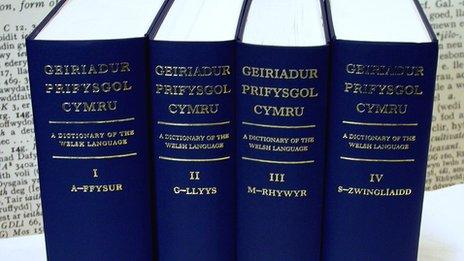 Words inspired by the growth of the internet and green issues are among 450 new entrants in a second edition of a Welsh dictionary.
Staff working on Geiriadur Prifysgol Cymru (University of Wales Dictionary) have been revising the A to B section.
New entries beginning with "bio" have risen significantly, from just three in the first edition to 120.
The rise of the web has seen blaenslaes (forward slash) and blogiwr (blogger) included.
The Welsh dictionary was founded in 1920 and the first edition was 80 years in the making, eventually completed by a team of experts in Aberystwyth in 2002.
Its first editor was appointed in 1947, and a 64-page section was published in 1950.
Other parts appeared at yearly intervals after that until the work was completed a decade ago.
Geiriadur Prifysgol Cymru not only provides words and explanations, it describes the development of the language and the meanings of words over time, and is similar to the Oxford English Dictionary.
Dictionary staff revising the A to B sections said it was striking how many new words had earned a place in the revised version.
"For example, there are about 120 words beginning with the prefix bio, reflecting in part the green times we live in as well as the growth of education through the medium of Welsh," said a spokesman.
"There were just three such words in the first edition, but by now there are words such as bioamrywiaeth (biodiversity), bioderfysgaeth (bioterrorism) and bioddiraddadwyedd (biodegradability)."
A few older words have been included which escaped the first edition, such as blawrbar (nitrogen), bochgoch (red cheeked), bolddawns (belly dance) and blobar (jellyfish), which has its origins in the English for blubber and is apparently still being used by fishermen in Caernarfon.
Six lexicographers, editing the dictionary, and support staff are working on the second edition, but so far there is no completion date.
Among them is Prof R. Geraint Gruffydd, who worked on the dictionary in the 1950s and is now aged in his 80s.
He and his colleagues will soon start revising the letter C, which is expected to inspire thousands of new entries such as cyfrifiadur (computer), cyfathrebu (communicate), and cymuned (community).
The words were not included in the first edition.
Related Internet Links
The BBC is not responsible for the content of external sites.