Aberystwyth University Phenomics Centre to develop new plants and crops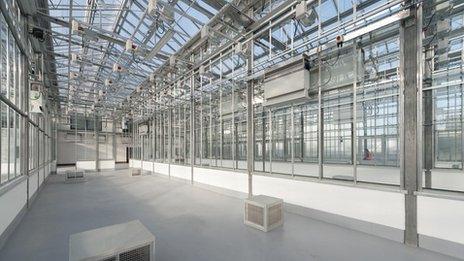 A £6.8m research centre which aims to develop new plants and crops has been opened at Aberystwyth University.
The university claims the National Plant Phenomics Centre includes the UK's most advanced research greenhouse.
It hopes research will help develop new plant varieties to "help tackle the global challenges of climate change".
New research laboratories created at a cost of £5.6m will also be opened on the university's Penglais campus, completing a four-year £25m project.
The National Plant Phenomics Centre is housed in the university's Institute of Biological, Environmental and Rural Sciences (Ibers).
Prof Sir Tom Blundell, of the Biotechnology and Biological Sciences Research Council (BBSRC), which helped fund the project, said: "The benefits of this investment will reach well beyond the walls of the university, offering a new national capability in crop science.
"Discoveries made here will contribute to combating major challenges, such as feeding a growing population."
Professor Wayne Powell, Ibers director, said: "The combined effects of world population growth, climate change and the scarcity of water and land mean that food and water security represent key global challenges for the 21st Century.
"The National Plant Phenomics Centre means that researchers based in the UK and internationally have the very latest technology at their disposal to develop new crop varieties that can thrive in challenging conditions and make a significant contribution to future food production."
The centre can house up to 850 plants on more than 300m (984ft) of conveyor belts and 10 computer-controlled cameras will monitor their growth daily.
The university says researchers will be able to speed up the process of identifying potentially beneficial genes.
New teaching and research facilities at Ibers Penglais will allow scientists to process data about new varieties of plants being developed.
It also includes a lab which will allow biologists and geographers to examine how the geography of an area affects biological processes.
Researchers at Aberystwyth are looking at the spread of malaria in Africa, and how this might be affected by climate change.
The new facilities at both sites have been funded by the BBSRC, the Welsh government and the European Union.
Education Minister Leighton Andrews, who opened the Penglais facility, said: "This new centre will develop the university's reputation as a globally-significant centre of bioscience research which should be celebrated."
Related Internet Links
The BBC is not responsible for the content of external sites.