Simon Jones: Missing man's jeans found at Aberystwyth beach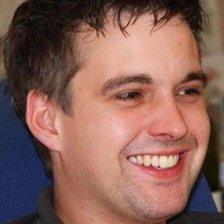 The family of a missing man say hopes are fading of finding him alive after a pair of his jeans were found on an Aberystwyth beach.
Simon Jones, 24, was last seen on 9 April after a night out in the town.
It is the second time an item belonging to Mr Jones has been handed in since his disappearance after tourists found his driving licence on the same beach.
Following the discovery of the jeans, divers searched an area of Aberystwyth marina on Saturday.
Jason Jones, Simon's first cousin, said the latest news was a blow to the campaign launched to find his relation, but there was still a glimmer of hope.
"Late last week we were told that somebody had found a pair of jeans on south beach (in Aberystwyth)," Mr Jones said.
"His mother went to Aberystwyth police station and confirmed they were Simon's.
"Obviously, this is not the news we wanted, and it's true to say that hopes are fading.
"But we're still appealing for information and until we know what happened to Simon there is still a glimmer of hope."
He said divers were sent in to search an area of Aberystwyth marina following the discovery of the jeans.
A procession of about 75 rally cars drove through Aberystwyth on 6 May to help raise awareness of his disappearance.
They took the route which CCTV shows Mr Jones, from Llandysul, walked when he was last seen at 01:34 BST on Monday, 9 April.
Mr Jones said following the event a person came forward with a picture of Simon which was taken at Pier Pressure nightclub on the night he went missing.
He said the person spoke to Simon and reported that he had been in good spirits.
Simon Jones is a fan of rallying and makes bodies for rally cars.
He was supposed to stay with friends in Penparcau but failed to arrive after his night out on 9 April.
He is described as slim, 5ft 9in (1.7m), with dark medium length hair.
Related Internet Links
The BBC is not responsible for the content of external sites.