Powys council: David Jones elected as new leader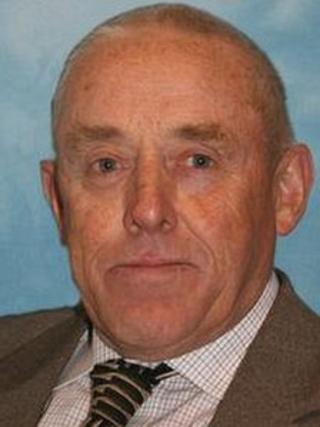 A new leader of Powys council has been elected, but the make-up of his cabinet will not be known until early next week.
David Jones, Shires Independent Group leader, replaces E. Michael Jones, who heads Powys Independent Alliance (PIA).
No political group has a majority on the council, but 48 of Powys' 73 councillors are independents.
David Jones represents the villages of Castle Caereinion and Guilsfield, near Welshpool, on the local authority.
Before the local elections on 3 May, Powys was run by a PIA/Liberal Democrats coalition.
David Jones had rejected talk of a coalition between his group and the PIA, saying there was "fundamental differences" between them.
It is unclear if he will form a coalition with another party.
It is said he might form an "area cabinet" made up of councillors from the old counties which make up Powys - Montgomeryshire, Radnorshire and Brecknock.
A Powys council spokesman confirmed Mr Jones' appointment, and said he was elected by 36 votes to E. Michael Jones' 34.
He added that cabinet positions should be decided by early next week.
Conservative MP for Montgomeryshire Glyn Davies and his AM colleague Russell George congratulated Mr Jones on his election as leader.
Mr Davies, who said he had known Mr Jones for decades, said: "I have already spoken to David in his new role and hope to meet him on a regular basis while I am MP for Montgomeryshire.
"His new team will be facing a huge challenge providing services in an incredibly tough financial climate. He deserves our support, and I will do my utmost to provide it."
Mr Jones has previously held the education portfolio on the council.
He faces several challenges as the new leader, including plans to reform primary and secondary schools.