Endangered crayfish released into tributary of river Irfon in Powys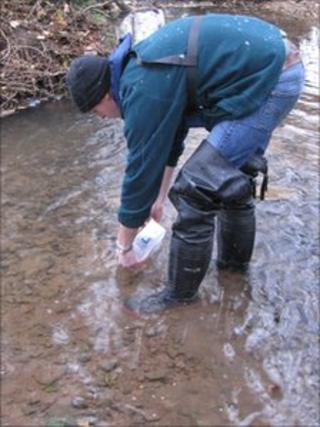 A total of 500 native crayfish have been released into a river tributary in Powys as part of continued efforts to save the species from extinction.
It is hoped the one-year-old white-claw crayfish will breed after being released into a tributary of the River Irfon near Builth Wells.
The area has been chosen as it is free from a non-native crayfish and a fungus-like disease which kills the crustaceans.
They were bred at a hatchery in Brecon.
Oliver Brown, from Environment Agency Wales, said: "This project is an essential part of the agency's crayfish conservation strategy which involves protecting existing populations and establishing new safe havens for the species."
The crayfish were released in conjunction with the Wye and Usk Foundation (WUF), as part of a project which began in 2009 when the first egg-carrying females were caught and transported to the agency's hatchery from selected wild populations.
'Under threat'
The white-claw is Britain's only native crayfish.
It is under threat from disease, climate change, habitat degradation and competition from the more aggressive American crayfish which were introduced for food in the late 1970s and 1980s.
Experts believe that without intervention, there is real risk of the species becoming extinct from mainland Britain within the next three decades.
Simon Evans, of WUF, said: "This work provides a beacon of hope for our native crayfish and is part of our efforts to improve the Irfon catchment as a whole.
"We are also recovering the river's habitat and water quality that the introduced crayfish need to thrive."