Royal Welsh Regimental Museum appeal to improve display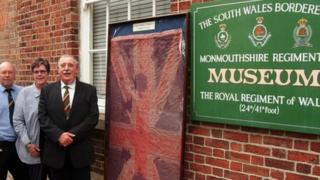 A military museum hopes to put a number of rare and highly valued artefacts on display as part of plans to breathe new life into the building.
The Grade II-listed Royal Welsh Regimental Museum in Brecon has pieces from the Anglo-Zulu War as well as 17 Victoria Crosses.
It also has the Union flag raised over the battle of Rorke's Drift in 1879, which still bears the bullet holes.
But the museum says it needs to raise £1m to make it happen.
Curator Bill Cainan said the flag from Rorke's Drift - which formed the basis of the classic 1960s film Zulu - was hanging in a corner of the museum.
"The appeal is being launched to preserve and enhance our most precious of artefacts, together with many others that deservedly ought to be presented in a more appropriate manner.
"It would be a fitting tribute for the brave men of the 24th to be immortalised forever."
Col Tim Van Rees, chairman of the executive committee of the trustees of the museum added: "Many of the fantastic items here are not currently on display.
"We are fundraising with the hope of eventually using modern technology to better present this fantastic collection in all its glory so future generations can be proud of their past and the town's history."