Brecon Jazz Festival to be headlined by Dionne Warwick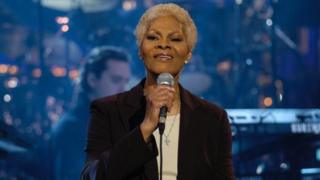 Soul singer Dionne Warwick, one of the leading names in American music since the 1960s, will headline the Brecon Jazz Festival, it has been announced.
It comes weeks after new operator Orchard, an events and media group, was chosen to run the event.
Last December, the Hay Festival organisation pulled out of running it after two years.
Jazz artist Roy Ayers, the pianist Huw Warren and jazz group Lighthouse will also be on the bill.
Warwick's best known songs include Walk on By, Do You Know the Way to San Jose, and Heartbreaker, and she comes from a musical family which included her late cousin Whitney Houston, and her aunts Cissy and Thelma Houston.
Orchard director Pablo Janczur said: "Brecon Jazz is a heritage brand with a great international reputation.
"If we can get close to recapturing the values, spirit and magic of the heyday of Brecon Jazz, we'll have done our job."
Financial difficulties
The arts council, Powys council and Brecon Beacons National Park led the search for a new operator and Brecon Jazz suffered a number of financial difficulties.
First staged in 1984, the mid-August festival has attracted leading international jazz musicians and up-and-coming artists from the UK.
The team behind the neighbouring Hay literary festival stepped in to rescue the music event after the previous promoter went bust after the 2008 festival, staging it from 2009 to 2011.
Over the years it has attracted singers and musicians such as Amy Winehouse, Van Morrison, George Melly, Humphrey Lyttleton, Courtney Pine, Allen Toussaint and Sonny Rollins.
Orchard will receive a commitment for funding this year's festival and will submit further plans for 2013 in the autumn.