Hay Festival celebrates its silver anniversary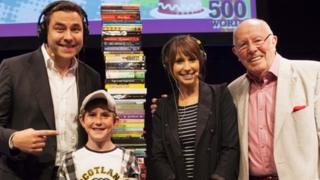 In 1987 the Hay Festival began in the back of the border town's British Legion club and sold 2,000 tickets.
But 25 years on it has become a global attraction selling out to quarter of a million people.
The annual mix of literature, politics, comedy and music is being held in Powys over 11 days and ends this weekend.
Over the years, it has attracted some of the biggest names, including former US President Bill Clinton, former Beatle Sir Paul McCartney and Sting.
"There's kind of a buzzy atmosphere," said festival organiser Peter Florence.
"People are coming out [of events] and you can feel they've been energised by what they've just seen - the buzz of a festival is really what defines it."
Mr Florence said the festival began "with a simple desire to try and get together a few mates and have a good time".
'Amazing and incredible'
"We started in the back of the British Legion. We had a totally unknown poet called Carol Ann Duffy and a Welsh poet called Gillian Clarke and a Welsh straggly baritone from somewhere in north Wales who was a promising amateur, called Bryn Terfel."
Each of those has, of course, gone on to greater things: Carol Ann Duffy is the poet laureate, Gillian Clarke is the national poet of Wales, and Bryn Terfel is an acclaimed opera performer.
This year, rugby pundit Brian Moore and former jockey Clare Balding appeared on Hay's Question Time-style debating panel.
Ms Balding, who is also a BBC commentator, said she had never been before, and despite the rain she found it "fantastic" and would love to return next year.
Springwatch presenter Kate Humble, who farms in Monmouthshire, added: "I think Hay is one of the many great things that really fixes Wales on the map. Wales tends to be one of those places that people think is very far away.
"When we said to people we're moving to Wales they all got their smartphones out and started deleting us from their contacts list.
"And then when my friends started to come they were all, 'This is amazing, what an incredible part of the country'."