Aberystwyth and Ceredigion County Show off due to rain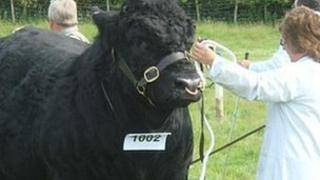 The Aberystwyth and Ceredigion County Show, due to be held on Saturday, has been cancelled because of the wet weather.
The annual event was to be staged at Lovesgrove on the outskirts of the town, and is one of the larger shows of its type in Wales.
The event organisers said they had been forced to make the "difficult decision" by the poor weather.
They urged people to support the event next year.
The agricultural show attracts people from across Ceredigion, neighbouring counties and beyond.
It has equestrian displays, poultry, dog, livestock and horse sections, and floral and produce tents.
On the show's website, a statement read: "Following the inclement weather, we have had to make the difficult decision to cancel the show.
"We hope that you have a successful show season and that you'll support us once again in 2013."
High winds also forced the postponement of Friday's races in the Canoe Slalom World Cup in Cardiff Bay.
Large parts of Wales have been hit by fierce summer storms, with heavy rain and 60mph gales.
The south and west bore the brunt of the gales, especially on the coast and on high ground, and Environment Agency Wales warned of flooding.