Ceredigion's new traffic wardens' 250 tickets in week one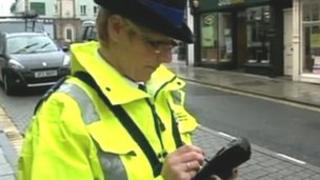 Traffic wardens back on patrol in Ceredigion after a year's absence issued more than 250 tickets to motorists in their first week.
Ceredigion council said 192 of the penalty notices were handed out in Aberystwyth.
The authority said its six new civil enforcement officers (CEOs) issued the tickets between 4 and 10 June.
There were complaints of parking chaos in the county after the old wardens were withdrawn on 31 May last year.
The three former wardens stopped working when control for them switched from the police to the county council.
It took more than a year for a new system to be put in place, with the CEOs starting work on 4 June.
They manage on-street parking and council-run car parks.
Complaints
A council spokeswoman said: "Ceredigion County Council can confirm that 192 parking tickets have been issued in Aberystwyth over the period 4 -10 June.
"As of Sunday, a total of 253 parking tickets have been issued in Ceredigion. It is not possible to state how much money has been generated at this stage."
The council claimed the CEOs were proving a success and the system was progressing well.
In Aberystwyth, vehicles had parked illegally on double yellow lines, in loading bays, disabled parking bays and even on pavements, which led to complaints about a parking "free-for-all".
Business leaders complained that shops had suffered as a result, with some shoppers avoiding towns such as Aberystwyth amid claims of parking chaos.