A&E department at Bronglais moves for revamp work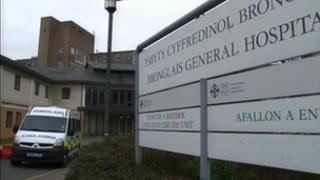 The accident and emergency unit at Aberystwyth's Bronglais Hospital is being moved for the weekend, as part of a £38m refurbishment programme.
The A&E department, alongside the GP out-of-hours service, will be run from the hospital outpatient unit from Friday evening.
Hywel Dda Health Board said it had included the Welsh Ambulance service in planning the move.
The unit will return to normal operation later on Sunday.
A health board spokesperson said: "The re-location of the A&E Department has been essential to enable works to take place on the Front of House project which will deliver a new accident and emergency department, clinical decisions unit and state of the art operating theatres at Bronglais Hospital.
"Patients are reminded to 'choose well' and only go to Accident and Emergency in very serious or life-threatening situations. Hywel Dda Health Board apologies for any inconvenience caused."
Work at the emergency unit is part of a five-year programme to overhaul facilities at Bronglais, which got underway in spring 2011.