Appeal after 100 crayfish found dead in River Ennig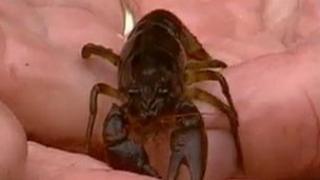 An investigation has been launched after more than 100 native white-clawed crayfish were found dead in a Powys river.
The endangered species were found over a 2km (1.2m) stretch of the River Ennig at Talgarth, near Brecon, on Wednesday.
Agency officers have taken samples from the river and are carrying out further investigations on Thursday.
The white-claw is Britain's only native crayfish, and is under threat from the more aggressive American crayfish.
They were introduced for food in the late 1970s and 1980s.
Experts believe that without intervention, there is a real risk the white-claw species could become extinct from mainland Britain within the next three decades.
Officers are appealing for anyone who has any information about the deaths or any pollution incident in the River Ennig to come forward.
Holly Sisley of Environment Agency Wales said: "We are continuing to investigate these deaths in the River Ennig.
"Early tests have not shown unusually low levels of dissolved oxygen in the water so we are still trying to find the cause.
"This is especially disappointing as these native crayfish are already under threat from their non-native American cousins and we are working hard with our partners to protect and improve the population through a breeding programme.
"If anyone has any information about these deaths or any pollution please call our incident hotline on 0800 80 70 60."
Other species were also found dead in the river, such as bullhead fish.
A total of 500 native crayfish were released into a tributary of the River Irfon near Builth Wells last month.