Source of crayfish deaths found in River Ennig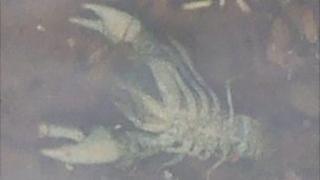 Environment Agency Wales says it has identified the source responsible for killing more than 100 native crayfish and other species in a Powys river.
The agency confirmed the source has stopped but monitoring will continue on a 3km (1.8 mile) stretch of the river Ennig at Talgarth, near Brecon.
Further samples have been taken to confirm the source of the problem which has yet to be revealed.
The white-claw is Britain's only native crayfish.
It is under threat from the more aggressive American crayfish which were introduced for food in the late 1970s and 1980s.
Holly Sisley from Environment Agency Wales said: "We are still awaiting the results from water samples taken at the River Ennig but can confirm that the source has stopped and poses no further threat to the environment."
The dead crayfish were reported to the agency on Wednesday afternoon by a member of the public in Talgarth.
A total of 500 native crayfish were released into a tributary of the River Irfon near Builth Wells last month.