Cambrian Lines film shows teens how to behave on trains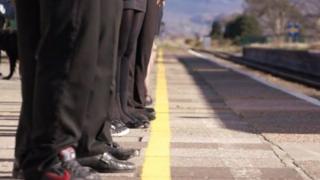 A train company has made a film which aims to improve the way schoolchildren behave, such as using bad language and putting their feet on seats.
The Cambrian Railway Partnership says it is tackling behaviour which annoys others passengers.
The film also teaches basic rail safety along Cambrian Lines, which serve mid Wales between Aberystwyth, Pwllheli and Welshpool.
It was made with help from pupils at Ardudwy and Tywyn high schools.
The bilingual film has been funded by the train partnership, TraCC (the Mid Wales transportation consortium), Network Rail and Gwynedd council with support from Arriva Trains Wales (ATW) in Machynlleth.
Cambrian Railways Partnership officer Rhydian Mason said: "We're very proud of this film as it shows how a community rail organisation can pull together many key industry stakeholders and other groups together to take part in a worthwhile project which we hope will make a positive difference.
"Many of the young people who'll be travelling to their secondary schools by train in September will be travelling without parents or guardians for the first time.
"It's important that we can give them the advice they need at an early age to keep them safe for years to come.
"Our hope is that this film made in mid Wales could be used as an additional safety resource nationwide for the benefit of many thousands of young rail passengers."
David Crunkhorn, of Arriva Trains Wales, said: "The safety of children using the railway line is very important to us, and we welcome any efforts to communicate these messages to our younger passengers."