Dog mess: Name and shame owners - Welsh football chief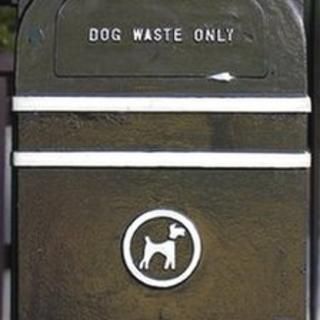 Dog owners who allow their pets to foul on sports pitches should be named and shamed, says a top football official.
Football Association of Wales Trust development officer Tim Broome said some pitches had to be cleared of dog mess before youth teams could play.
His comments follow complaints by several Powys sports clubs who say dog fouling is a growing problem in towns like Welshpool and Newtown.
Powys council said if it was reported it could initiate a clean-up.
Welshpool Town Council announced plans last November to publish images of regular offenders captured on CCTV in a monthly newspaper gallery, and town clerk Robert Robinson said the scheme would start in the coming weeks.
Mr Broome said: "Football pitches and recreational land for children's sport are in short supply in the area and I find it unacceptable that people allow dogs to foul on these areas.
"Volunteers that help run children's teams should not need to carry a poop scoop in order to clear a pitch before allowing teams to play and worry about children falling into dog mess."
Newtown Rugby Club said it was a growing problem at its Recreation Ground.
Spokesman Alan Owen said: "It is a lack of respect for the people who tend the pitches and also to those who use it."
Mid and North Powys Junior Football League chairman Vaughan Harding said Newtown, Welshpool and Llandrindod Wells had a particular problem.
"At Welshpool Juniors we are extremely fortunate that we have a group of volunteers who clear up after other people's dogs, but it is a situation we have to self police," he said.
"It is not right that people have to clean up for irresponsible dog owners. I have got to the point where I take a shovel with me to training.
"There are signs up asking people to clean up after their dogs and at Welshpool's ground on Salop Road there is also a dog waste bin nearby so there are no excuses."
He added that irresponsible dog owners should be named and shamed.
Powys council urged residents to report dog fouling incidents.
"By reporting any incidents, the council can then arrange for the mess to be cleaned up, erect 'no fouling' signs and install waste bins as required and where possible investigate and take enforcement action against the dog owner who has failed to clean up," said a spokesman.
Dog fouling problems can be reported to tls.helpdesk@powys.gov.uk or telephone 0845 6027035 or 01597 827465.