Restrictions relaxed at Llangorse Lake after toxic algae find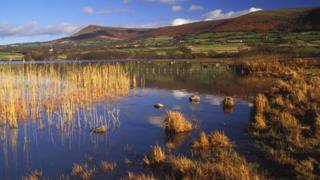 Restrictions preventing people using a Powys lake have been relaxed after toxic blue-green algae was found.
Water sports and fishing were banned at Llangorse Lake, near Brecon, last month.
Powys council's environmental health service said the algae was still there, but pleasure boats and angling were now permitted on the lake.
But restrictions on swimming, water skiing, paddling, diving and wind surfing remain.
Pet and livestock owners have also been warned to keep their animals away from the water.
The council took the decision to ban water sports and angling last month after receiving information from Public Health Wales and the Environment Agency.
Warning changes
Possible side effects of the algae toxins include skin rashes, eye irritation, vomiting fever, diarrhoea and muscle pain.
Children are at greater risk than adults of developing problems because of their comparative lower body weight.
The location of the algae is dependent on the conditions, such as wind direction and rainfall. It also expands and contracts depending on the amount of sunlight and the temperature.
The Brecon Beacons Park Authority has put up signs warning about the algae.