MyTown and Papur Dre in £100,000 boost from Nesta project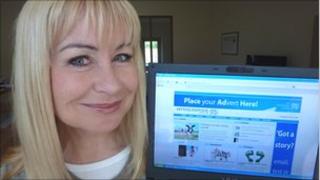 A news website and a community newspaper in Wales have scooped £50,000 each from a project developing the "hyper local" media sector in the UK.
MyTown, which covers Welshpool and Newtown in Powys, and Papur Dre (Town Paper) from Caernarfon, Gwynedd, intend to expand their services.
Ten news schemes from around the UK received £50,000 each from Nesta , the lottery-funded innovation foundation.
There were 165 applications for money, with 10 submissions from Wales.
MyTown, which was launched in 2010 by ex-print journalist David Williams, will use the money to launch new sites, in addition to its existing two covering Welshpool and Newtown.
It will create a location aware mobile app for smart phones, allowing geographically relevant news headlines to be viewed on mobile phones.
Users of the app will also be able to upload their own content.
Mr Williams said: "A lot of hard work has gone into establishing both mywelshpool and mynewtown as credible sources of local news and information over the last two years.
"This grant support will allow our readers to receive their local news through the very latest cutting edge mobile technology. The support will also activate our expansion programme into new towns."
Papur Dre is a community newspaper working with Cwmni Da, a television production company and Coleg Menai, a further education college in Gwynedd.
Working together they will create a Welsh language mobile service that features news and information, using images, text and video.
Students from the college will have the opportunity to create content for the service and produce a hyper local video news channel.
'Digital era'
Dylan Huws, Cwmni Da's managing director, said: "We're very excited that our bid has been successful. This is great news for Gwynedd, and we've been given a real opportunity to help Papur Dre face the challenges of the digital era."
Nesta programme director Jon Kingsbury said he was pleased two projects from Wales had been successful in the Destination Local project.
"Destination Local will prototype the next generation of these services in a bid to understand whether these new technologies and platforms can deliver sustainable, scalable models that serve local communities and deliver economic benefit," he added.
Business Minister Edwina Hart congratulated the teams behind the Welsh bids.