eBay fake make-up sale: Leanne Wetheim sentenced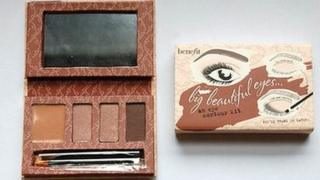 Traders who offer fake goods over the internet have been warned about legal action after the sentence of a woman who sold counterfeit make-up.
Powys council said Leanne Wetheim, 24, was given an eight-month suspended jail term, was told to do 160 hours community service and pay £2,000 costs.
Wetheim, of Gilwern, near Abergavenny, Monmouthshire, admitted five charges under the Trademarks Act 1994.
She sold the make-up, some with dangerous levels of lead, via eBay.
The council said a forfeiture order was made for all the goods seized at her home, which included about 770 items of suspected counterfeit cosmetics and equipment.
Wetheim admitted the charges at a hearing on 18 May, and was sentenced at Cardiff Crown Court on Tuesday.
During the hearing, Lee Reynolds for the prosecution, said the proceedings involved an internet investigation conducted by the council's trading standards officers.
The council said a warrant was executed in June last year following various test purchases over the internet from Wetheim. The products found at her premises were confirmed to be counterfeit by the relevant brand holders.
The council said Wetheim also received negative feedback from some customers about the quality of the make-up, many saying that it was fake.
But she continued to sell the products through four accounts on eBay.
Effect on health
The local authority said a selection of products were scientifically tested, and a counterfeit Max Factor mascara was found to contain more than three times the safe level of lead.
Following the court hearing, Councillor Barry Thomas, who is responsible for trading standards on Powys council, said counterfeiters had little regard for the county's traders and sought to further destabilise the economy.
He added: "The levels of lead found to be contained in these products should also act as a deterrent to those who seek to purchase these products from these auction sites as they have no way of knowing what they contain, and ultimately the effect they may have on the health of the person buying."
Clive Jones, the council's principal trading standards officer with responsibility for special investigations, said: "We welcome this sentence as a deterrent to those involved in making, importing and selling counterfeit goods."
In February, two men were sentenced for selling counterfeit make-up in a similar case prosecuted by Powys council.
The two, from Merthyr Tydfil, sold fake cosmetics and toothbrushes via eBay. One was given a community order and the other a 16-week suspended sentence at Merthyr Crown Court.
The goods seized from them included mascara with 20 times the safe level of lead.