River quality schemes share £420k Environment Agency cash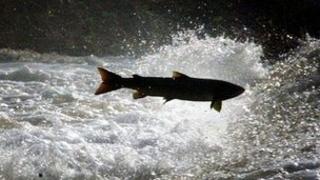 More than 20 projects aimed at improving the quality of Welsh rivers, lakes and waterways are to share £420,000 of investment.
Environment Agency Wales said the money would be used by voluntary groups to improve fish migration, making it easier for them to spawn.
Welsh Water said it would match the investment and was inviting proposals for similar projects.
Rivers in Powys and Swansea are among those set to benefit from the cash.
The money will also help restore woodlands and wetlands.
In 2010, Environment Agency Wales and the Welsh government announced plans to improve all the country's waterways by 2015, and return them to a "near natural" condition by 2027.
They set out to work with water companies, farming groups, industry and councils to tackle pollution.
About the latest investment, Environment Agency Wales director Chris Mills said: "We have fantastic rivers, lakes and waterways in Wales and improving them further will benefit not only wildlife but people too.
"Together, we are working with our partners and voluntary organisations to protect our waters, wildlife and wetlands to bring environmental, social and economic benefits to Wales."
Among the 21 successful applicants is The Wildlife Trust of South and West Wales, which is improving water quality in the Swansea area by working with the public to reduce pollution.
Ecological value
The Wye and Usk Foundation is also set to benefit. It is improving fish passage and protecting streams with fencing in the River Trothy in Monmouthshire.
On the Nant Gwydol and Dulas south rivers near Machynlleth, Montgomeryshire Wildlife Trust and the New Dovey Fishery Association are working with the National Farmers' Union and the Farmers' Union of Wales restoring river catchments.
They will also benefit from the £420,000.
Welsh Water's director of environment Tony Harrington said: "We believe that by match-funding this investment we will enable a significant increase in the ecological value of projects that can be realised by 2015, all of which will support our own aims and objectives under the water framework directive."