Welshpool town hall clock repaired after pigeon mess problem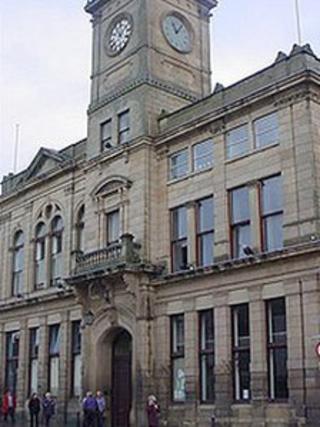 Work is underway to repair a Victorian town hall clock which ground to a halt after pigeon droppings affected the mechanism.
The repairs are part of a project to restore the entire building, which is expected to be completed in September and cost more than £85,000.
Welshpool town council, which runs the hall, said pigeons had been getting into the clock tower for 40 years.
Grills will be placed in the tower to prevent them from making future visits.
Town clerk Robert Robinson said droppings, five inches (12.7cm) thick, had to be cleared out of the clock tower and the mechanism cleaned so it could be repaired.
"Pigeons have been getting into the clock tower for at least 40 years," Mr Robinson said.
"The mechanism had to be cleaned off so repairs could take place. In addition, the clock is currently wound manually and we're changing it so it is electrically wound."
Mr Robinson said contractors would also correct the clock tower, which was leaning.
Welshpool town hall is a Grade II-listed building and opened in 1874. It was a magistrates' and crown court until 2006.
"Construction workers are going to repair and clean the stone work, replace one of the court room windows and a second floor window," added Mr Robinson.
"The clock face will also be cleaned."