Prince Charles meets victims of floods in Ceredigion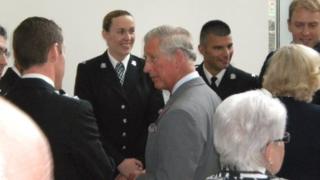 The Prince of Wales has heard how people in Ceredigion are coming to terms with the effects of June's severe flooding during a visit to Aberystwyth.
The prince and the Duchess of Cornwall met about 90 people, which included emergency crews involved in the rescue of more than 150 people.
They spent about 90 minutes at a reception held at council offices.
The prince also met nine-year-old Alan Williams who explained that his pet rabbits survived the floods.
Northern parts of Ceredigion were left underwater following heavy rainfall, causing damage to properties and holiday homes.
The deluge affected more than 1,000 people, with 150 people rescued and 75 properties damaged.
The prince has made a "generous" donation to an appeal fund for the flood victims, which currently stands at £70,000.
The visit to Ceredigion council's offices in Aberystwyth came exactly a month on from the flooding.
Prince Charles listened intently to those affected by it, spending time with groups of four or five people before moving on. He also managed to raise a few smiles.
Among those who spoke to the prince were Talybont neighbours Mick and Jenny Fothergill, Maurice Jones and Bill Gardener, whose 300-year-old house is said to be the oldest in the village.
Fluffy and Fudge
Mr Fothergill said: "He was concerned in a human way, and talked about one of his interests, climate change. He said we had been thrust in the deep end with climate change.
"It was a very positive experience."
Mr Jones said the prince was "very pleasant" and showed an interest in how they were coping with their insurance claims.
He also met three neighbours from Capel Bangor, near Aberystwyth, whose homes were flooded.
Mick Barber, who is renting a caravan in nearby Clarach Bay while his home is repaired, said the prince asked them about the extent of the damage to their properties.
Mr Barber explained how the community had banded together following the crisis.
Prince Charles also had a word for nine-year-old Alan Williams, who was there with his mother, Andrea Jones.
Alan's rabbits, Fluffy and Fudge, survived the flood and the prince asked how they were.
'Strong community spirit'
The royal couple also spoke to police, firefighters and members of the RNLI, some of whom had risked their lives to save people stranded by the floods.
Mark Jones, the manager at Aberystwyth fire station, explained how his team had coped with numerous emergency calls involving caravan parks, vehicles and homes.
Borth RNLI and two members from its national flood rescue team said they were involved in the rescue of about 60 people.
They told the prince how the emergency services trained together to cope with major incidents.
They said the prince reflected that people could do all the amount of training they liked, but it could "go out of the window".
But he added: "We British are very good at improvising."
Ceredigion council leader Ellen ap Gwynn said there was a strong community spirit in the region.
"People have suffered a traumatic experience in these floods and as a community and council we've got to do what we can to do to help put things back," she said.
"We are very grateful to the prince for the donation he made to the appeal.
"It was most generous of him."