Brecon Beacons electric cars Twizys powered by elements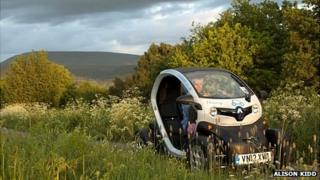 Tourists to Brecon Beacons National Park are being encouraged to hire electric cars to explore beauty spots.
A fleet of low energy quadricycles, called Twizys, have been launched, which are powered by electricity gathered from sun, rain and wind.
The new eco-friendly transport scheme is jointly-funded by the national park.
The six two-person quadricycles are a zero carbon travel alternative and have a top speed of 50mph.
The vehicles have been supplied by the Eco Travel Network (ETN) and part-funded by the Welsh government.
Businesses in the area will hire out the the vehicles to encourage greener travel.
The initiative makes the Beacons the first UK national park to offer electric car rental through its accommodation businesses.
Businessman Ian Foster, from Hay-on-Wye, said: "Not only are the Twizys an environmentally-friendly way for our visitors to travel, but the ever expanding network of charging stations in the area is connecting tourism businesses around the national park."
Alison Kidd, director of the ETN, said: "Most of a car's energy is used to move the weight of the vehicle rather than the people inside.
"Changing attitudes, in this case to car travel, starts with changing behaviour and the best way to trigger a new behaviour is to make it fun.
"Hopefully, they will take that experience and a different way of thinking back to their everyday lives."
The scheme has been part-funded by the Welsh government's sustainable development fund.
The Renault quadricycles are 2.34 x 1.24 m (7ft 8in - 4ft) and can travel up to 50 miles between charges.
Councillor Evan Morgan, chairman of Brecon Beacons National Park Authority's sustainable development fund, said: "This scheme will have benefits for the local economy, environment and community, and we're pleased to support such an innovative approach to sustainable travel."