Exports of Welsh sheep and cattle reach record levels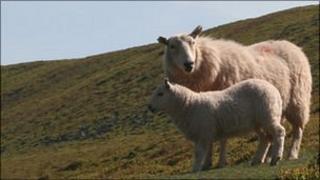 Exports of Welsh sheep and cattle have reached record levels after finding new markets overseas.
Hybu Cig Cymru/Meat Promotions Wales (HCC) said last year's export figure for lamb and beef stood at £200m - £53m higher than 2010.
Overseas sales of sheep skins, cattle hides and offal added a further £40m to the overall 2011 total.
HCC said new markets in Canada and Sweden among others, had helped boost export sales.
It said there was also a drop in meat production in New Zealand last year, which allowed Wales to increase supplies to some other countries.
Meanwhile, a favourable exchange rate, which made Welsh exports more attractive particularly to countries inside Europe, also benefited Wales' farmers, HCC said.
HCC made the announcement at the start of the four-day Royal Welsh Show, which attracts more than 200,000 visitors annually.
Chairman Dai Davies said it was a staggering achievement that the Welsh farming industry could feel proud of, adding that Welsh beef had almost doubled the value of its exports in a year.
"Welsh lamb is now a global brand, known throughout the world for its quality and superior taste," said Mr Davies.
"It not only represents all that is best about our farming industry - it also flies the flag for Wales across the world."
Wales' deputy Minister for Agriculture Alun Davies said the figures were so important "to our economy in a difficult time".
He added: "Welsh meat is a symbol of Welsh identity and part of our culture, and I am so proud that this top quality product is being enjoyed all over the world."
The Royal Welsh Show will be opened later by the European Commissioner for Agriculture and Rural Development, Dacian Ciolos.
Spitfire
First Minister Carwyn Jones held a special reception for Mr Ciolos at a hotel near Merthyr Tydfil on Sunday night.
Mr Ciolos will visit the livestock sheds and the Young Farmers' Club stand during his visit to the show. He will also hold meetings with Welsh government officials.
Speaking ahead of the show, Mr Ciolos said: "I am delighted to be attending the Royal Welsh Show this year and it will be a pleasure to officially open the event.
"I look forward to my discussions with the Welsh government and farmer representatives, and hearing broader Welsh views, as we continue our negotiations on the reform of the CAP after 2013."
Welsh farming minister Mr Davies said Mr Ciolos's visit was a good opportunity to "further progress favourable reform".
There have been record livestock entries of 7,600 animals at the show.
Meanwhile, the old county of Breconshire is this year's feature county.
Among this year's attractions is flypast by a World War II Spitfire, which will appear, weather permitting, on Monday, Tuesday and Wednesday.