Restrictions lifted at Llangorse Lake after toxic algae find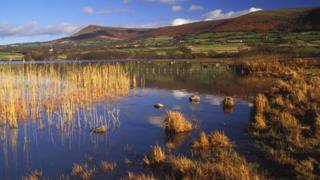 Restrictions preventing water-sports and fishing on a Powys lake after a potentially toxic blue-green algae was found, have been lifted.
Powys County Council advised against recreational use of Llangorse Lake, near Brecon, in June.
Some guidance was later lifted, but the council advised people against anything "where immersion in water is likely".
Although considered safe, monitoring of the water will continue in case the algae grows to excess again.
Dai Walters, of Environment Agency Wales, said: "We're pleased to say that the lake is currently clear of the algae, but we won't be complacent, and we will continue to monitor the lake.
"We are also working with our partners to investigate the conditions which cause the algal bloom so we can reduce the likelihood of it re-occurring in the future."
Possible side effects of the algae toxins include skin rashes, eye irritation, vomiting fever, diarrhoea and muscle pain.
Children are at greater risk than adults of developing problems because of their lower body weight.