Royal Welsh Show: Daily attendance hits record figure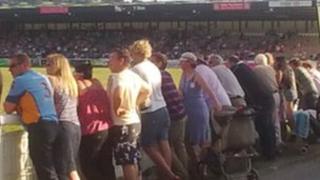 One of the hottest days of the year so far has drawn a record crowd at the Royal Welsh Show.
Show officials said 64,769 people attended the event on Tuesday in Llanelwedd, Powys, the highest ever attendance figure for the second day.
It beat a record set in 2006 of 63,390.
It had been feared that some farmers might not attend this year's show after the unseasonal weather leading up to the event prevented them from cutting grass and hay.
The four-day showpiece got away to a flying start in brilliant sunshine on Monday when the first day's attendance reached 53,642, up by 5,000 on same day last year.
Tuesday was warmer, with temperatures hitting 26C (79F).
Judging of livestock continued on Tuesday morning with some of the 3,250 sheep, the largest display of its kind in the world, according to show officials.
Cattle judging continued with commercial cattle and dairy breeds and in the horse section, the popular Welsh Mountain Ponies and Welsh Cobs came in for scrutiny by the judges.