Bishop of Swansea and Brecon suggests farm row mediator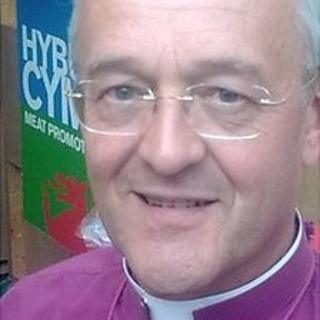 A bishop is calling for the introduction of an independent mediator to intervene in disputes between farmers and retailers.
John Davies, the Bishop of Swansea and Brecon, said it would help consumers, processors and retailers.
His comments follow protests by dairy farmers after four milk processors said they were cutting the price they paid producers by two pence per litre.
The Welsh government said it was working to secure the future of milk.
A draft deal for a new, but voluntary, code of conduct was agreed between processors and dairy farmers on Monday.
Bishop Davies was speaking at the Royal Welsh Show in Llanelwedd, Powys, on the stand of Welsh meat promoter Hybu Cig Cymru.
He said an independent arbiter would be a form of early intervention across all supply chains, whether they were milk or meat.
'Bit of the jigsaw'
"Something independent that looks at both sides before relationships (between retailers and producers) sour," he said.
"For example, when a massive retailer states that it is a reliable customer for the milk produced by dairy farmers and demonstrates its so-called reliability by paying the farmer less for the milk than it costs the farmer to produce, justice is not being done. A bit of the jigsaw is missing.
"The grocery supply code of practice is an attempt to restore justice.
"However, as far as I can see, it covers situations where there is thought to be a breach of the code and does not provide a mechanism for early referral by either side seeking change or variation of contractual terms.
'Swift access'
"I believe that there ought to be a regulatory body set up, by the government, to which retailers and producers could have automatic and swift access if they want to and have what they believe to be justification for changing the terms of their contractual arrangements."
Bishop Davies said he had spoken to members of the Royal Welsh Agricultural Society about the mediator.
The National Farmers' Union and the Farmers' Union of Wales said they supported it.
Wales' deputy Agriculture Minister Alun Davies said: "The dairy sector is a key part of our food and farming industry in Wales, and the Welsh government is working to ensure it has a prosperous and sustainable future.
"Our programme for government specifically identifies dairy as a priority sector for attention and support.
"I recognise that the sector needs both to resolve the immediate issues around the price paid for milk, but at the same time also to put in place structures and mechanisms that will help underpin its long-term viability."
The Archbishop of Wales stepped into the row over dairy prices on Tuesday by saying shoppers must be prepared to pay more for their milk.
Dr Barry Morgan insisted everyone was responsible for ensuring farmers got a "fair price" for their milk - not just the dairies and major supermarkets.