Aberystwyth Tesco scheme's compulsory purchase plan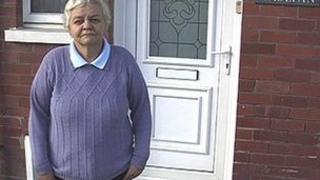 Plans to force the sale of homes standing in the way of a shopping development have been backed by a council cabinet.
Most of the 12 terraced homes in Glyndwr Road in Aberystwyth are understood to have been sold, but some residents are refusing to move.
Ceredigion council officers recommended compulsory purchase orders (CPO).
The Mill Street project includes plans for Tesco and Marks and Spencer stores, with hopes of 300 new jobs.
A council report, which went before Ceredigion's cabinet on Tuesday, said the authority had been asked by developers Chelverton Deeley Freed to use compulsory purchase powers to force the sale of the homes in Glyndwr Road.
It is understood three homes are involved.
A final decision will be made by the full council.
The overall development could create around 300 jobs, and boost town centre trade by between £1.6m and £3.5m a year, according to the report.
Ceredigion Council stands to receive £3m from the developers as part of the deal.
One of the homeowners in Glyndwr Road, Enid Jones, 56, vowed in April to stay put.
She said the developers had offered to buy her a home or build her a new one as part of a deal.
Speaking before Tuesday's meeting, Mrs Jones said: "I don't mind if something is built up to the back wall of my house, I'm not a Nimby [Not In My Back Yard].
"I'm still fighting to keep my home, but I'm waiting to see what councillors decide (on Tuesday) and when the full council meets in September.
"I am checking if councillors have the right to use compulsory purchase orders in this way. They can be used for regeneration purposes, but whether building a Tesco is a good enough reason to take my house, I don't know."
In a programme broadcast in November 2011, BBC Wales' Week In Week Out followed Mrs Jones in her attempt to get more details about the plans for her home.
The programme said nine of the 12 homeowners in Glyndwr Road had agreed to sell, but three had refused.
Shops would also be built over a nearby car park.