Powys Pylon plan 'difficult balance,' National Grid says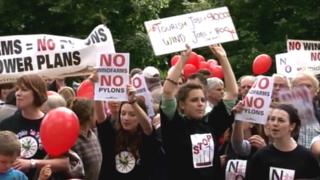 National Grid says it is trying to strike a "difficult balance" with its plans for a controversial electricity substation and 100 new pylons in Powys.
The energy giant said it "completely understood" opposition to the proposals but it was obliged to link up wind farms in mid Wales with Shropshire.
Around 200 people protested outside a meeting between Powys councillors and the National Grid to discuss the plans.
The village of Cefn Coch is the firm's preferred site for the substation.
The proposed 19-acre (7.6ha) substation could be linked to more than 100 pylons in a corridor along the Vyrnwy Valley and parts of Shropshire.
Opponents say the "hub" site and the pylons will disfigure the countryside.
One of those demonstrating outside Powys council's Neuadd Maldwyn offices on Wednesday evening was Jill Kibble.
She said: "We have 250 wind turbines already in mid Wales. The grid is nearly full.
"It could take a small amount more, perhaps one more small one windfarm. But then that should be the end for mid Wales.
"Mid Wales has done its bit in terms of wind energy. We should not then have to have our beautiful landscapes desecrated by 20-acre hub sites and pylon lines all over the countryside."
The meeting was relocated from its original venue, Welshpool town hall, due safety concerns by police over the number of protesters.
Officers feared the pavement outside the town hall, which is close to the main road through the town, did not have enough room to accommodate the protesters.
In its response to the demonstration, National Grid said the proposed substation and network of pylons and power lines are necessary to link new windfarms to the national grid across the border in Shropshire.
'Obligation'
It said the current infrastructure in mid Wales is not up to the job.
External affairs manager Kevin Rendell said: "We completely understand that people are going to feel frustrated.
"People feel very strongly about this, that's quite clear. But we've got an obligation to connect these windfarms in mid Wales.
"What we're trying to do here is come up with the best overall solution by listening to people's views, listening to what people have got to say and trying to take everything on board to struck what is a difficult balance."
National Grid is holding a number of public events across the proposed route for the pylons over the next two weeks, including in Cefn Coch on 8 August.
The planning application for the substation will be submitted next year, and 2015 is the earliest start of any construction work, if permission is granted.