Welshpool air deaths: Plane hit trees in cloud - AAIB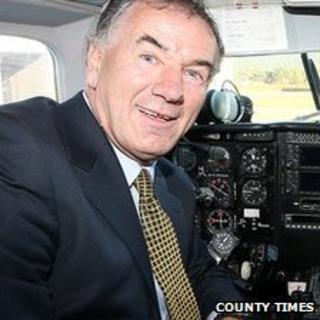 Two pilots were killed when a light aircraft hit cloud-covered trees on a Powys mountain's upper slope, an accident report has found.
Bob Jones, 60, who founded Mid Wales Airport in Welshpool, died on nearby Long Mountain along with Steven Carr, 55, from Ruthin, Denbighshire.
An Air Accidents Investigation Branch report said the men might have thought they had cleared high ground.
Mr Carr was flying the Piper PA plane to re-familiarise himself with it.
The aircraft crashed on Long Mountain on the morning of 18 January this year.
Mr Carr, a former commercial airline pilot, and Mid Wales Airport manager Mr Jones, who was also a pilot, would have been aware of the proximity of the mountain, said the Air Accidents Investigation Branch (AAIB) report.
But they "may have thought they had cleared the high ground", it added.
'May have misjudged height'
The report said it was unlikely the pilots would have deliberately entered the cloud, "but may have misjudged their height above it and inadvertently entered the top of the cloud, which was obscuring the trees".
Mr Jones built Mid Wales Airport on fields near his farm, developing it from a grass strip in 1990 to act as a base for businesses operating aircraft in the area.
The airport has an annual air show which has now been named the Bob Jones Memorial Air Show.
Mr Carr, who had flown Airbus A320s and Boeing 737s, was carrying out the flight to re-familiarise himself with the Piper PA, which he had not flown since November 1998.
The Piper PA took off from Welshpool and was due to land back there.
Both pilots were married with children.
Wreckage from the aircraft was taken to the AAIB's headquarters in Farnborough, Hampshire, following the crash.