£1m Powys council fund to help first-time home buyers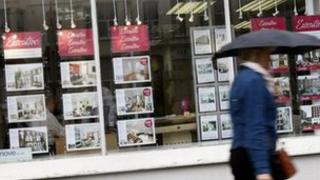 First-time buyers in Powys will be helped onto the property ladder through a scheme in which the county council acts as mortgage guarantor.
The authority has become the latest to agree to set aside a £1m fund to help property buyers.
The money is expected to help about 40 buyers with part of their mortgages guaranteed by the council allowing them to put down a 5% deposit.
Lloyds TSB has worked with the council on the mortgage scheme.
Councillor Graham Brown, the cabinet member with responsibility for affordable housing, said he was very pleased the council was able to enter into the partnership to provide assistance to first-time buyers.
Additional security
"The council has held the provision of more affordable housing as a high priority for some years and this initiative will assist those who need just that little extra support to become homeowners," he said.
Subject to the bank's usual lending criteria, borrowers are able to select any existing property in the area covered by Powys council up to a maximum loan of £175,000.
First-time buyers will put down a minimum 5% of the property price, and Powys council will provide a cash-backed indemnity of up to 20% as additional security.
The first-time buyer owns the property in its entirety, and will have access to a range of products at a lower rate of interest than would normally be made available for such a level of deposit.
Last September Conwy council cabinet passed a scheme to invest £1m as a bond to help people get on the property ladder in the county.