Bog snorkellers compete in world championship in Powys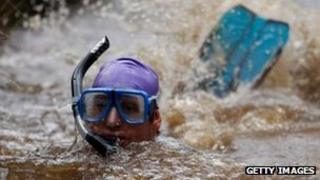 The world bog snorkelling championships take place in Powys as part of the two-week World Alternative Games 2012.
Organisers said hundreds of people were expected to take part, which has been running for over 20 years.
Competitors have to complete two lengths of 55m (180ft) trench. The current champion in the men's event, Andrew Holmes from Yorkshire, set a world record last year of 1m 24s.
The female title holder is Dineka McGuire from Northern Ireland.
The organisers decided to hold an extended alternative games this year after London won the Olympic bid.
The games received a £50,000 grant from the Welsh government.