Welshpool town hall restoration costs more than double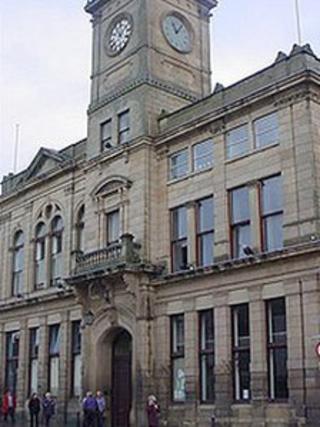 The cost of repairing a Powys town's landmark building has more than doubled after "unforeseen" problems with some walls.
Work has been underway for some weeks to refurbish the Grade II-listed Victorian town hall in Welshpool, which opened in 1874.
Costs were originally put at £85,000, but they have risen steeply to about £200,000, said the town council.
A parapet wall needs to be rebuilt, and other walls need to be secured.
The town hall clock is also being repaired as part of the project after it ground to a halt when pigeon droppings affected the mechanism. The birds had been getting into the clock tower for 40 years.
Councillor John Corfield, chairman of the council services and property committee, said: "It's such an old building that until you start work you don't know what you are going to find.
"It's a stark choice. We either abandon the building or carry out the repairs. The town hall is a focal point in the town and it's well used, so we have to keep it in good condition."
Mr Corfield said maintenance work had been continuous over the years, but the stone work had not been properly looked at since 1926.
"The parapet is unstable in parts and we've discovered that the brick work behind the stone work is wearing away," Mr Corfield added.
"We've also found that the (town hall's) original builders didn't use mortar in some areas and packed holes with old newspapers."
The increase is costs is expected to be covered by money from a council-run land trust.
The town hall repairs were due to be completed on Friday, but they are not expected to be finished now until November.