Ian Parrott: Tributes to Aberystwyth University professor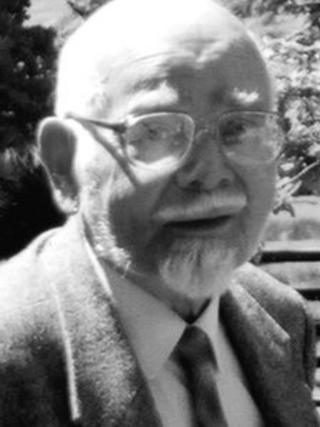 Tributes have been paid to an awarding-winning composer and eminent professor who has died, aged 96.
Emeritus professor Ian Parrott was born in London, but lectured at Aberystwyth University from 1950 until his retirement in 1983.
He was described as having a "brilliant musical intellect", while it is said his teaching style left a lasting impression on generations of students.
He was a student of the Royal College of Music and New College, Oxford.
He later served in World War II and time spent in Egypt inspired his symphonic impression Luxor, which won the Philharmonic Society first prize in 1949.
He joined the university a year later and became the Gregynog Chair of Music, a position he held for 33 years.
One of his former students and director of music at Aberystwyth University, Dr David Russell Hulme, said: "He became immersed in the musical life of his adopted country, and helped found the Guild for the Promotion of Welsh Music.
"Wales inspired many of his works, such as the overture Seithenin, the seascape Arfordir Ceredigion, written for the 1992 National Eisteddfod at Aberystwyth, and the operas The Black Ram and The Lady of Flowers."
His work included five symphonies, four operas and chamber works, often written for leading international artists.
He also wrote numerous books on music, and was a vice president of the Elgar Society and the Peter Warlock Society and received the John Edwards Memorial Award for devotion to Welsh Music and the Glyndwr Award for his outstanding contribution to the arts in Wales.
"His brilliant musical intellect and idiosyncratic teaching style left a lasting impression on generations of music students, many of whom rose to the top of the profession," added Dr Russell Hulme.
'Tireless work'
Aberystwyth University vice-chancellor Prof April McMahon said the university owed Prof Parrott an enormous debt of gratitude.
"Colleagues have spoken of the enormous contribution he made during his 33 year tenure of the Gregynog Chair of Music here at Aberystwyth, his tireless work after retirement and his unfailingly generous support and enthusiasm," she said.
Prof Parrott's funeral takes place in Llanbadarn, Aberystwyth, on Wednesday.