eBay fake Manchester Utd shirts legal action warning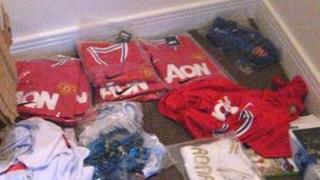 Traders selling counterfeit goods have been warned they face legal action after the sentence of two men who sold fake football shirts via eBay.
Powys council said Robert Jenkins, from Welshpool, and Michael Craddock, of Wolverhampton, had admitted charges under the Trade Marks Act 1994.
The pair were accused of selling fake Manchester United and Manchester City shirts and other counterfeit goods.
Powys council said it targeted "illegal shadow economy activities".
Jenkins, 23, admitted seven charges and Craddock, 28, admitted eight. They were sentenced last Thursday, and received 12-month community orders, were ordered to do 250 hours unpaid work and pay £1,925 costs, the council said.
A forfeiture order was also made for about 300 fake goods worth about £22,000, which were found at two premises in Hereford, said council officials.
The local authority said both men had sold a considerable amount of replica football shirts from a range of clubs, including Manchester United and Manchester City.
Some 700 fake items had been sold before trading standards took action.
Computer software
The council said fake Adidas, Ugg, Ralph Lauren, Lyle and Scott and Microsoft computer software goods were also seized.
Powys council said Jenkins and Craddock were trading through two accounts on eBay.
Test purchases from the men were made online and the items were deemed to be counterfeit by the relevant brand holders, officials said.
Barry Thomas, the council's cabinet member for trading standards, said: "We support legitimate businesses and local taxpayers by targeting illegal shadow economy activities such as product counterfeiting by individuals, who have little regard to the county's traders and only seek to further destabilise our economy."
Clive Jones, the council's principal trading standards officer, said: "We have noticed that there's a tendency for some people to be tempted to import large quantities of products from wholesale auction sites in the Far East and our investigations have highlighted that some of these supply chains involve counterfeit goods."