Ceredigion sewers baited to tackle rat problem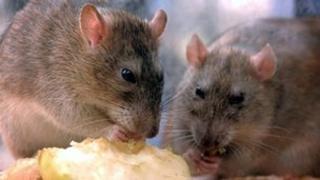 Poison is being put down sewers to control a "growing" rat problem in Ceredigion.
Sewers were baited in Llandysul and Aberaeron earlier this year, now it is Aberystwyth and Cardigan's turn.
An Aberystwyth councillor said the rodent population had grown in the town because sewers had not been baited and refuse was poorly stored.
Every year, around 500 reports of rodent sightings are reported to Ceredigion council.
Aberystwyth town and county councillor Ceredig Davies said poorly stored refuse was one of the reasons why rats were on the increase.
"I wouldn't like to compare Aberystwyth to Hamelin of pied piper fame, but I'm sure any urban area in the UK has an issue when you have a high density of population," he added.
"I have had [more complaints] over the last couple of years.
"We're in the centre of Aberystwyth, we've got high density of population, we've got a lot of young people living on their own for the first time and perhaps their housekeeping skills are a little bit lacking.
"The result is that there is food available, not only for the rats, but for a seaside town like Aberystwyth, we've got an issue with seagulls, which also cause us problems."
Mr Davies said the local authority was educating people about how they should store their refuse, but he added that "some people are willing to be educated, while others aren't".
Ceredigion council said it was important to control rodent populations because of the risk to public health.
"Town drainage systems provide an ideal habitat for rodents and they also enable these pests to roam over large areas in their quest to find food sources," said a spokeswoman.
"Local authorities across Wales work in partnership with Welsh Water to control rodent populations through a programme of baiting of the public sewers.
"Such work was undertaken in Aberaeron and Llandysul earlier in the year and treatments are currently under way in the Aberystwyth and Cardigan areas."