Great Oak Street, Llanidloes, due for facelift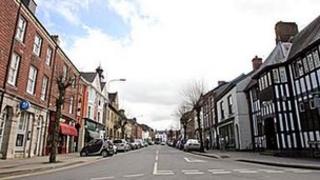 Llanidloes is expected to receive a make over under plans by Powys council to improve its main shopping area.
Proposals for Great Oak Street include a one-way system, new signs and pavements.
Residents and businesses will have the opportunity to view and comment on the planned improvements next week.
A 17th Century timber framed market hall, said to be the only one of its type left in Wales, stands at the bottom of Great Oak Street.
The Grade I-listed building has been hit by passing lorries in previous years, but it is unclear if the proposed improvements will help avoid this in the future.
The make over is part of the Severn Valley environmental enhancement scheme, which is designed to regenerate the local economy of key towns in north Powys, including Llanidloes.
It is funded by the European Regional Development Fund, the Welsh government and Powys council.
Graham Brown, the council's cabinet member for planning and regeneration, said: "The key objective of this project is to improve access within and to the central shopping and market area and provide a significant improvement to the historic setting of Great Oak Street, increasing the attractiveness of the centre to businesses, residents and tourists."
The plans will be on display at the council's customer service point between Monday and Friday (24 and 28 September).
A council officer will be available on Thursday (27 September) to discuss the proposals.
Earlier this year, businesses and residents stepped in to save Llanidloes' street market, which dates back to the 13th Century, after fears it would close.
The number of stalls had dwindled from about 40 in its heyday to as few as one, but numbers have since picked up.
A committee made up of retailers and residents have relaunched it.